Digital Innovation in Banking Excellence 2017
Date: 8th to 10th November 2017, Malaysia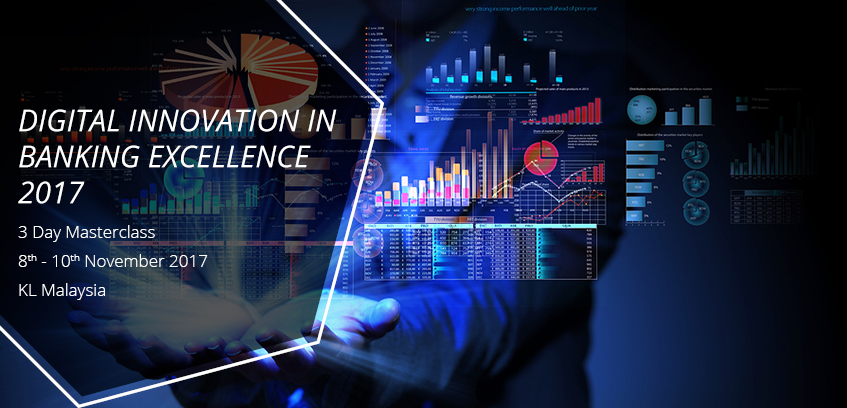 Overview
The Digital Revolution has happened. Advances in technology, innovation, and growing customer expectations show no signs of abating. The virtual nature of banking makes it particularly susceptible to digital disruption. This brings both challenge and opportunity. Customers are changing as they become ever more familiar with technology and digital delivery – there is a pull through for digitally enabled services. There are also supply side efficiencies as innovative services and delivery models mature.
Banking is now a digital business – to stay relevant to customers banks need to deliver what they need, where and when they need it and at low cost. The competitive landscape is also changing with new players and startups taking slices of the banking value chain – payments being a prime example. This means doing things differently, testing and trialing new ideas and adopting an innovative mindset.
A clear sense of direction helps future proof your business. There is no end game, the only constant changes. It is no longer sufficient to develop a digital strategy – digital is simply part of what we do, central to all aspects of strategy and execution.
There is no single right answer to future proofing a business – but successful businesses will ask the right questions, take bold steps and move in the right direction.
This 3-day interactive masterclass will stimulate thinking, co-create ideas, engage in goal setting and provide tools and models to help future proof your business.
Benefits
This practical masterclass provides a unique insight into the what, why and how of digital innovation in financial services:
What are the key trends impacting every part of the banking value chain, and changing customer expectations?
Why do these trends matter, why does innovation matter?
How should we respond to this digital disruption?
Learn about building an innovative culture inside your organization.
Future outlook and opportunities of digital innovation.
Who Should Attend
CEO, COO, CMO, CIO, Senior Vice President, Group Heads, Directors, Vice Presidents, Managing Executive, General Manager, Senior Managers, Managers, Senior Executive and practitioners from:

Retail Banking
Mobile/Digital Banking
Product Development/Strategy
Customer Experience and Transformation
Product Portfolio Management
Product Development / Product Innovation
Fintech Firms
Information Technology
Marketing / channel marketing / Retail Strategy / Communication
Video
Resources